KONE Will Deliver Elevators For Saudi Arabia's Kingdom Tower
TravelMaster 110 escalators. To complement the building's exclusive look, KONE will provide the customer with tailor-designed car interiors and landing doors as well as latest People Flow Intelligence solutions including KONE Destination Control Systems and premium KONE Infoscreen displays. Other special solutions include KONE E-Link(TM) remote monitoring systems, as well as an occupant evacuation operation system for emergency situations. The order includes a ten-year equipment maintenance contract.
KONE UltraRope is a high-rise elevator technology that will enable elevator travel heights of one kilometre – twice the distance currently feasible.
In tall buildings the height an elevator can reach is limited by the weight of steel ropes needed to hoist it. The rope has to pull up not only the car and the flexible travelling cables that take electricity and communications to it, but also all the rope beneath it.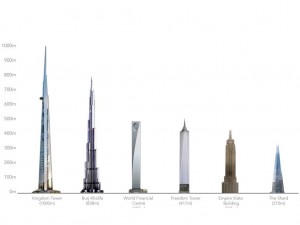 The job is made easier by counterweights but in a lift 500 metres tall steel ropes account for up to 75% of the moving mass of the machine. Shifting this mass takes energy, so taller lifts are more expensive to run.
Making the ropes longer would risk the steel would snapping under the load. But KONE says it is able to reduce the weight of lift ropes by around 90% with its new technology.